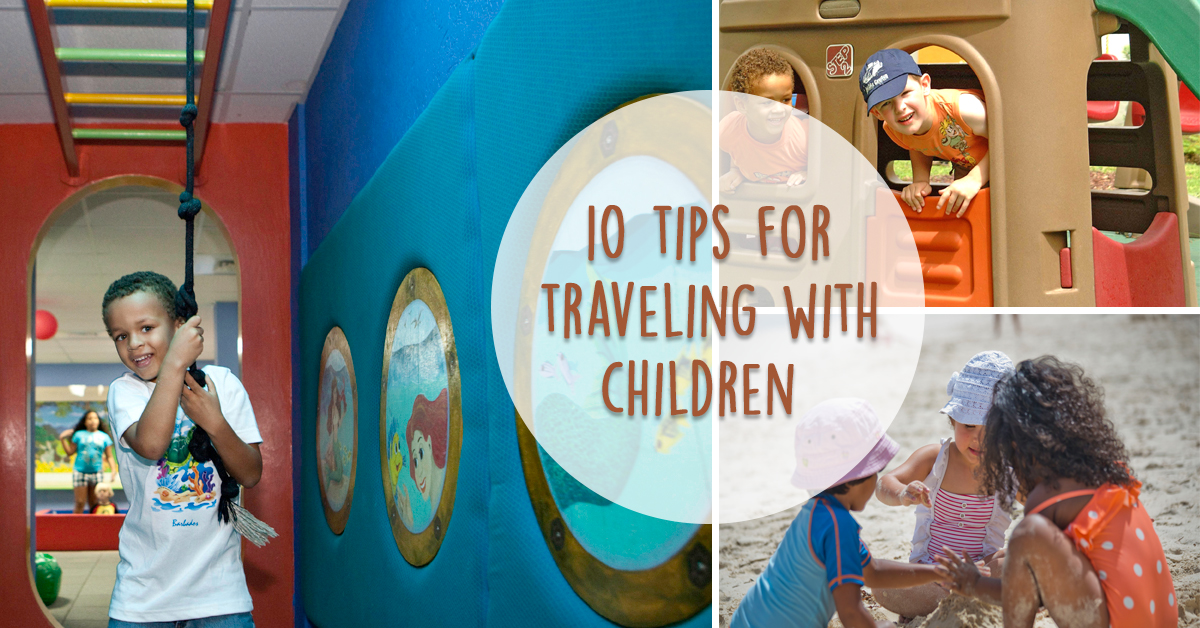 Bougainvillea Beach Resort is known as one of Barbados' most family friendly hotels. There is nothing like the look on a child's face the first time they squish sand between their toes or dive into the warm Caribbean Sea. Traveling with children however can be a little nerve-wracking so we have prepared a list of 10 tips to ensure that not only your kids have the vacation of their dreams but so do you.
Pack things in your carry-on for in-flight entertainment.
No one wants to be stuck next to a screaming child on a plane, or be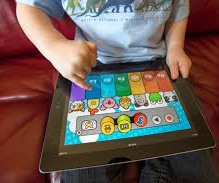 responsible for a screaming child. Pack with your children's interested in mind, but also pack smart. If they like arts and crafts, try to stay away from bulky boxes of crayons (they may also get lost down the side of the seats). You may instead want to pack magic scribbler, or better yet a tablet. There are numerous child friendly apps that will keep the little ones quietly entertained for hours. Just be sure to charge your iPad or tablet before you travel as you may have limited access to charging once your journey begins.
Travel with their favourite snacks
Not only is snacking a good distraction while sitting on long flights but it also helps with take-off and landing. When the air pressure changes many children scream out in pain as their ears adjust. By snacking, particularly on chewy snacks like gummies, the pressure equalizes as their ears pop. Try however to stay away from sugary snacks as the last thing you want is a kid bouncing off the walls with a sugar rush in a small enclosed area. When traveling to exotic places you might find it difficult to find something that your children likes on the menu. Look for restaurants that offer a 'kids menu' (like at Bougainvillea Beach Resort) or walk with healthy snacks in zip lock bags for easy access and mess free travel.
Stay at a family friendly hotel
Take the time when planning your trip to carefully choose a family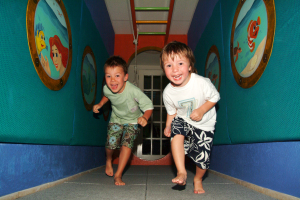 friendly hotel or resort, trust us it makes the biggest difference! From a hotel that offers a babysitting service or kids club to the smallest details like having in room microwaves for warming baby bottles, Bougainvillea has thought of it all. Look for hotels or attractions that offer family packages. At Bougainvillea Beach Resort all children under 15 stay free! We also offer incredible specials for children at our restaurants. Children under 4 eat for free and children 4 – 12 years get 50% off. Now that is what you call family friendly!
Invest in a child locator
Airports, train stations and attractions tend to be crowded with people rushing from point A to B. With children excited about being on a plane or in a new country, their curious minds may cause them to stray from your side. As a parent there is nothing scarier than this thought. Luckily in this day and age there are many options for improving your child's security. You should consider investing in a child locator. This small device can be strapped to your child's belt or a shoe and then you keep the transmitter. Many smart phones have apps for this. You could also give your child a bracelet with your contact information on it. Another good idea is to always walk with a clear recent photo of your child on your phone, just in case you get separated in a crowd. While the chances of this happening are slim, it never hurts to be prepared.
Remember to pack the essentials
Pack Band-Aids, change of clothes, diapers and baby wipes. Even if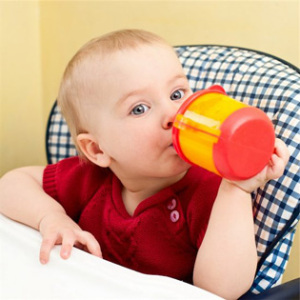 your child is potty trained baby wipes come in handy for wiping hands, cleaning toilet seats or wiping surfaces. Don't forget to pack all of your child's medication and extra medication for coughs, colds or allergies (especially an EPI pen). The last thing you need on your family vacation is to try to figure out where you can buy cough medicine at 3 am in a foreign country. It is also a good idea to travel with a sippy cup for younger children. Not all restaurants have children's cups. After ordering a drink for your child, pour it into their own sippy cup, this makes meal time a lot easier, and is also more hygienic.
Pack according to the climate
When traveling to a warm topical island such as Barbados it is important not only to dress according to the warm weather but to bring different essentials as well. Sunscreen, Chap Stick, bug spray and after-sun moisturizer are not normally thought of when packing for vacation. Luckily they can be purchased once you arrive at your destination. Sunglasses and hats are strongly recommended for children along with UV protection swimsuits or wetsuits. Don't forget to reapply sunblock, a bad burn can really put a damper on your vacation. Many tropical destinations actually get quite cool at night. Pack an extra blanket and a sweater for your children, just to be safe.
Engage and involve your children
Travel is such a stimulating thing for the mind. Children exposed to
travel learn to see the world in a different way, through different eyes. Try to include your children in decision making. Ask them if they would rather build sandcastles on the beach or swim with the sea turtles. Get your children excited about activities by talking to them about it before you head out on your adventure. When children are interested and engaged they tend to behave better and listen attentively to the tour guide. Encourage your children to keep a travel journal, not only does this keep them focused while out of school, but it makes a great keepsake.
Travel with a stroller
Walking through a busy airport with small children not only slows you down but can also add stress as you have to keep a constant eye on your curious, wondering child. Traveling with a stroller not only speeds up the process but is added security for you as a parent as your child is strapped in. We recommend traveling with a stroller that has a duel function as a car seat or booster seat, especially if renting a car. In Barbados you can call ahead and request a car seat with your taxi, but we still recommend traveling with your own. Strollers are also perfect for nap-time, children get tired on full day excursions. Not only can your child hop in and have a nap when they choose, but some strollers have storage compartments which saves you from having to carry around a diaper bag all day.
Take your time and plan for delays
Always add an extra 30 minutes on to your travel time, especially for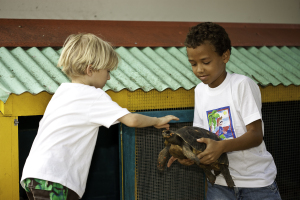 airport travel. Think of things that normally cause delays and plan them out ahead of time. The biggest hold up at the airport has got to be the dreaded security line. Avoid dressing your children in metal items such as belts on travel day. Dress them in shoes that are easy to slip on and off, like crocs. The littlest things like bathroom trips before leaving the house can make the biggest of differences when out and about. Kids also tend to pick up on their parents moods. Be ahead of the game and take your time and your children should be more relaxed as well.
10. Savor the moment while saving memories
Always walk with your camera, you never know when your child is going to come face to face with a monkey or spontaneously try a new food. Take as many pictures and videos as you can, your children will thank you one day (they will also make for great #TBT's in the future). Better yet, give your children their own (child-friendly) camera. This allows them to focus on observing their surroundings while keeping them quiet and interested in their new environment. This little project also allows you to see the world through your children's eyes, and you might be surprised at what they capture. Memories may fade but pictures last a lifetime.