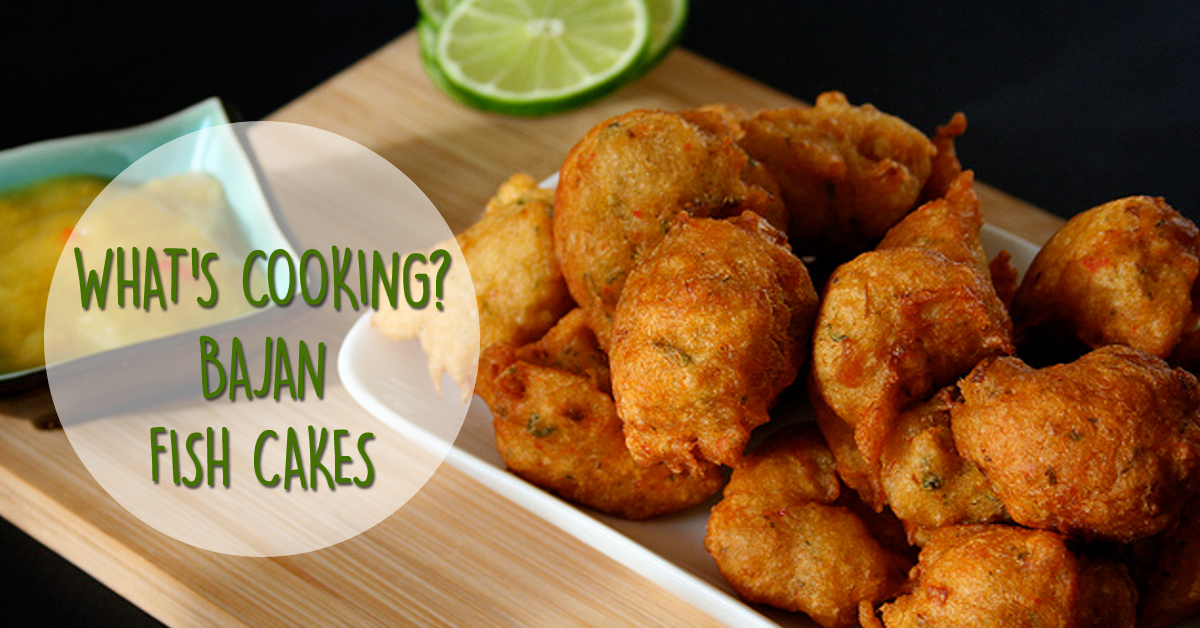 Summer in Barbados is about fun, sun, food and parties.  And don't be mistaken, they all go together!  So if you're hanging with friends or chilling by a poolside bar chances are fishcakes will be involved!
Bajan (affectionate word for Barbadians) fish cakes are traditional finger foods which can be eaten by themselves or with a "salt bread" (bun/roll) also known as a "bread and 2". Hmmmm… are you wondering what that is. Well, back in the day folks would put two fish cakes in a salt bread and so the name was born.  But nowadays, plenty folks are found stuffing as many fish cakes imaginable in a salt bread!  Personally, we can't blame them because we like to do the same thing, especially if the bread is fresh and the fish cakes are hot with steam and pepper.
So wherever you are right now and reading this, we want you to enjoy Bajan Fish Cakes as much as we do, so we're sharing our recipe so you can try your hand at making them yourselves.
Bajan Fish Cakes Recipe
2 tablespoon oil
1 cup onions, finely chopped
1 cup flour
1 tablespoon baking powder
Salt to your taste
1 egg lightly beaten
¾ cup milk
1 tablespoon butter, melted
2 tablespoon Bajan Seasoning *
½ pound, salted cod fish or salt fish, cooked and flaked
1 large fresh hot pepper (finely chopped)
In a heavy frying pan, heat the oil and sauté the onions until they are just wilted.
Place flour, baking powder and salt in bowl.
Make a well in center of bowl and pour egg, butter and milk.
Mix together lightly, add the onions, seasoning (chives, thyme) salted cod fish, salt and chopped fresh pepper.
Stir well until all ingredients are mixed together.
Scoop tablespoons of the mixture into hot oil, but do not crowd them in the pan.
Turn the fish cakes periodically until golden brown on all sides.
Place fishcakes on paper towels to drain excess oil.
Grab some salt bread, a few friends and enjoy the Bajan fish cakes!
*Bajan seasoning can be made by blending fresh onions, chives, thyme and garlic.
Don't forget to try our Pudding n' Souse recipe or our Rum Punch.
Special thanks to Cynthia Nelson for the use of her photograph.
Check out her Tastes Like Home blog for other recipe ideas for delicious Barbadian and Caribbean cuisine.