Travelling with kids doesn't have to be a logistical nightmare or a scramble to find entertainment when you're supposed to be relaxing. Barbados has a ton to offer for families with kids of all ages. These 10 activities are just a few of our suggestions for awesome child-friendly things to do and places to go in Barbados.
Art Splash Cafe and Play Park
Parents, grab your coffee at the cafe and then head behind the cafe to the Art Splash Play Park. This park is equipped with zip lines, swings, jungle gyms, mini merry-go-rounds, an under three section and more. It is sure to be a hit with kids of all ages. Let them burn off some energy, run with their imaginations and make new friends, while you reenergize and enjoy your coffee in the shade.
Price:
$6 USD per child or $2.50 on Wednesday, Saturday and Sunday (Free for Adults and children 2 and under)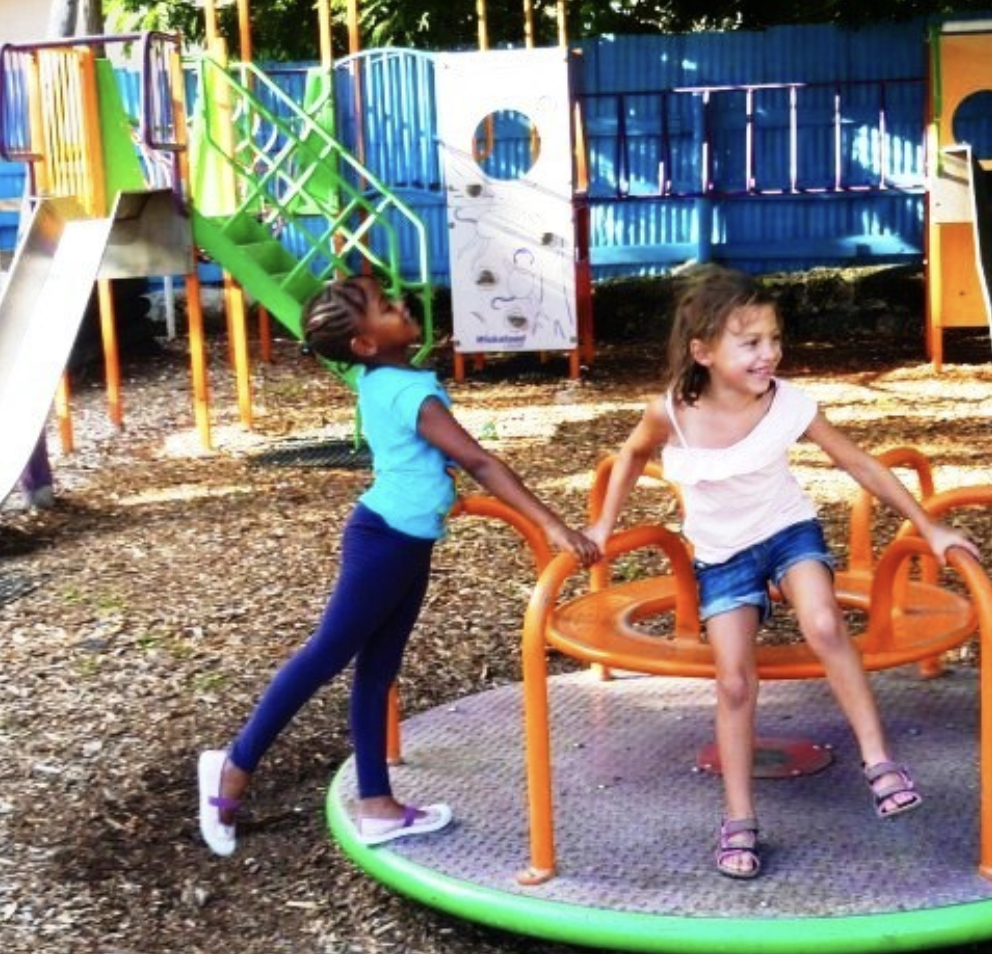 Discover the Ocean Blue
The ocean and its mystical creatures capture the awe of parents and children. If you have young children and are looking for an easier way to "snorkel" try a glass-bottom boat. This keeps all the perks of seeing coral reefs, turtles, tropical fish, and even shipwrecks without the hassle and worry of you or your children having to swim, and being able to use a mask and snorkel. The crystal clear views can't be missed. If you would still like the option to swim many glass bottom boats make stops for swimming as well.
Price:
$20-$35 USD a person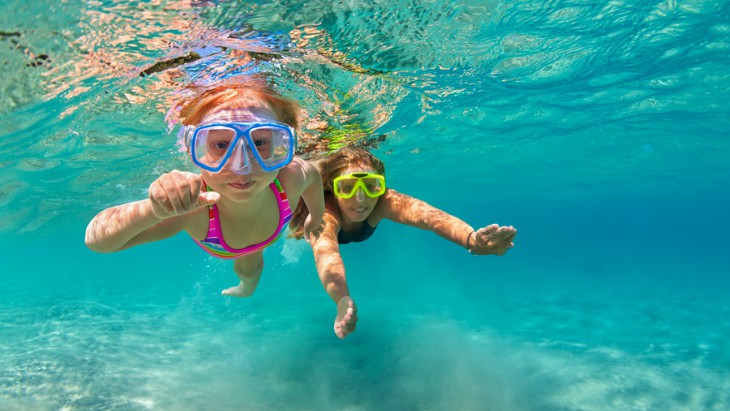 Pack a Picnic
There's something inexplicably fun about having a picnic on a blanket or picnic table in the great outdoors. In Barbados, you have your pick on endless picnic spots, from a number of public parks to countless beaches to historical sites and hilltop views all of which are great for kids to explore and play. Get the kids involved from before the picnic by letting them help pack up the back and pick out some local snacks.
Trains for Tikes
A new attraction to Barbados is the St.Nicholas Abbey Heritage Railway. This steam locomotive travels along a scenic path with views of the plantation, mahogany woods and stops at the stunning Cherry Tree Hill look out over the East Coast. Your kids will love the open carriage and the old-school style train that might look like one of their toys come to life.
Price:
$15 USD for children under 11 and $30 USD for adults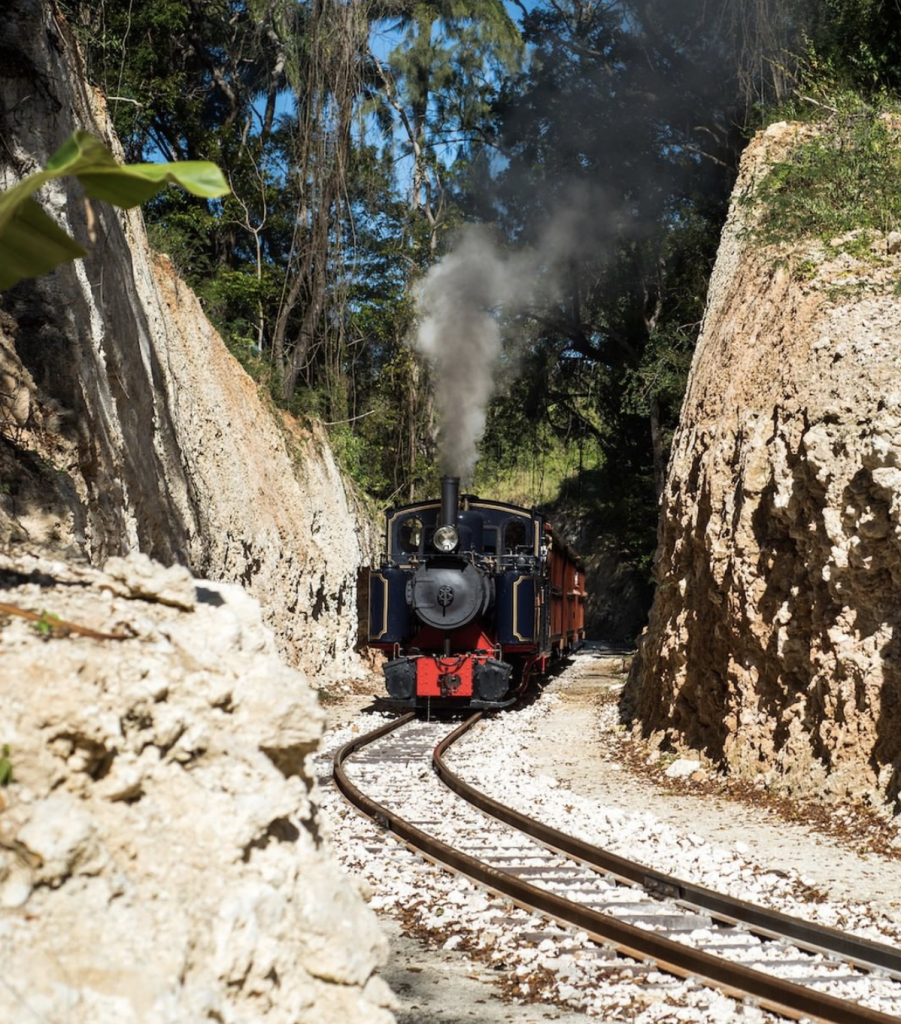 Explore Rock Pools
Head to the East Coast, and visit Bathsheba beach at low tide for an opportunity to explore rock pools. As the tide pulls away, the rocks come to the surface and the small craters within them are visible and safe to inspect. Bring out the little biologist in your child as you examine, little fish hiding in the rocks, different sea plant species and shells, and they may even find a sea spider when turning a rock over. Keep the whole family entertained until the tide returns.
Fun City
Fun City Amusement Park is exactly as its name suggests, this mini-park is the recipe for fun. With merry-go-rounds, a trampoline park, a train, bouncy castles, and for the braver kids a rocker roller coaster. Located in the parish of Christ Church Fun City is easy to get to and perfect if you want to plan a day away from the beach.
Price:
$5 adults and children
Ages:
18 months to 13 years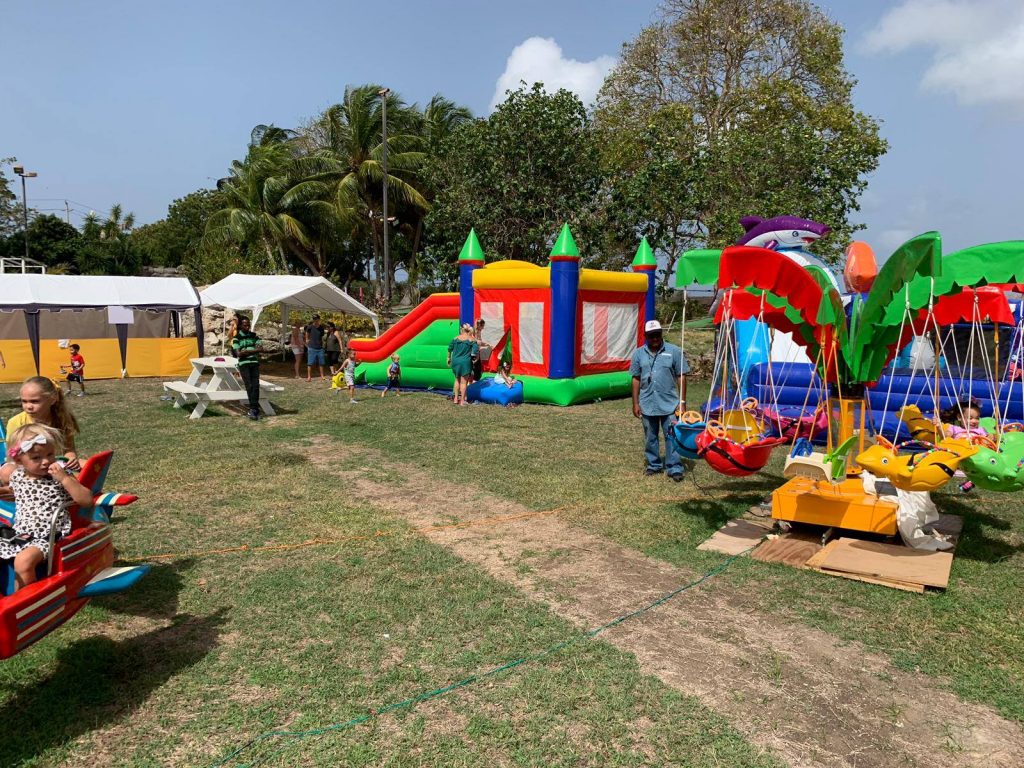 Monkeys around with the Monkeys at the Wildlife Reserve
The Barbados Wildlife Reserve is great fun for children and educational too. If you're looking to see a Barbados Green Monkey, then the Wildlife Reserve is the place to be, but it's more likely you'll see about a hundred of them. Other animals at the reserve include tropical birds like parrots and peacocks, tortoises, bunnies and snakes to name a few. The path through the lush forest is lined fun facts, that you can read on your self guided tour. We recommend you visit the animals feeding time, around 2:30 pm, for a real treat.
Price:
$15 USD adults and $7.50 USD for children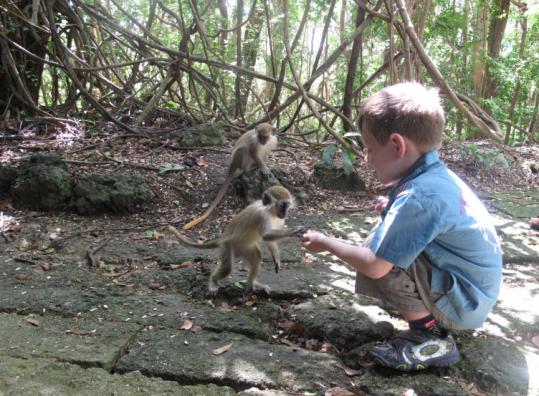 Water-sports Lessons
Sign your children up for watersports lessons. There are many classes for children to learn to surf, stand up paddle, sail, and scuba dive. Let your children have a fun, new experience while learning a skill and getting active. Plus some places even offer family packages so you can learn together. 
Price:
It depends on the sport and length of classes. Single lessons run between $25- 80 USD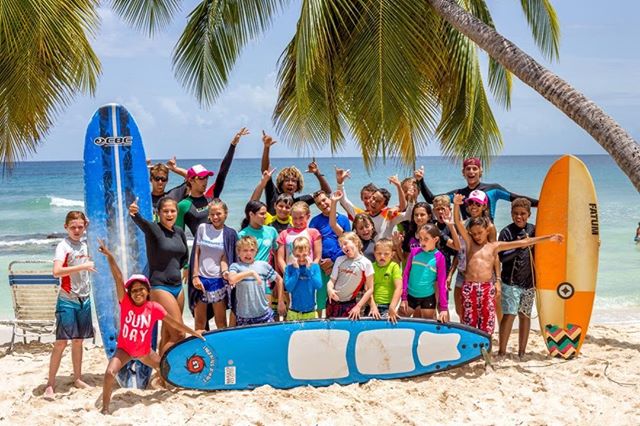 Curiosity in Caves
You've explored the land and you've explored the sea, now take your curious children underground in the Harrison's Cave tour. The tram tour is perfect for children, as you get to see the beauty of the limestone cave, with its stalactites and stalagmites, clear pools, streams and water features, all from the safety and convenience of an automatic tram. Guides give information about the cave and it's history while you enjoy the views. This fun yet educational tour is sure to be a lasting memory for you and your kids.
Price:
children $15 USD, adults $30 USD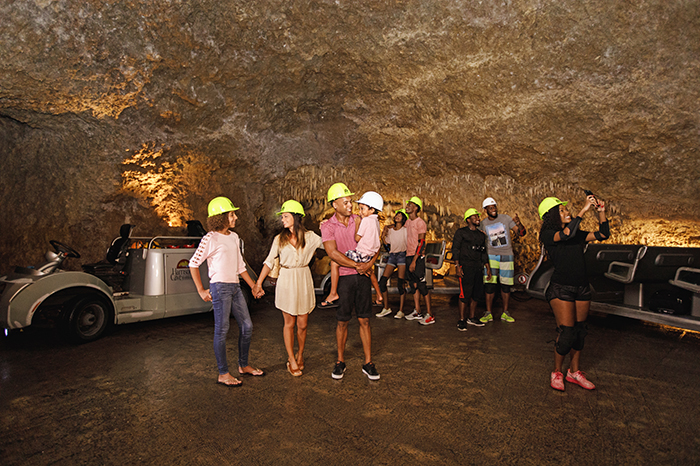 Bougainvillea Kids Club
Lastly, look no further than your own resort. One of the many perks of staying at Bougainvillea Resort is the amazing kids club. Operated by fully qualified Kids Club Coordinator, children can take part in a wide variety of activities including arts and crafts, board games, reading and storytelling, dress up, pool and garden fun, a fun-packed play park, and believe it or not a petting zoo! For older kids who do not require full supervision check our the games room where you can find air hockey, pool, table tennis, foosball, mini basketball and a 57″ flat screen tv.
Price: 
One day US$25 per child, per day, including a snack and lunch

Three days or more – US$20 per child

Family Special (2 children +) US$20 per child
Ages:
  Kids Club 3 – 10, Games room ALL